Track severe and tropical weather in the U.S.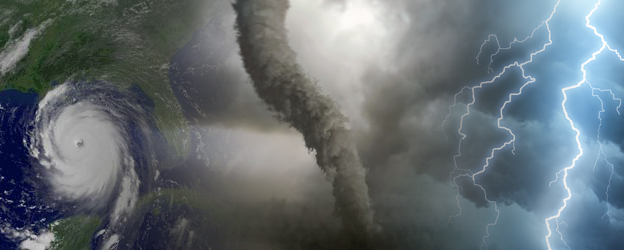 View the latest severe weather watches, warnings, advisories, and statements in both text and graphical form on our severe weather page.
The severe weather products include plots of surface analysis, surface fronts for 12 and 24 hours, and convective outlooks. Advisories include Severe Thunderstorm Warnings, Tornado Warnings, Thunderstorm and Tornado Watches, Winter Weather Advisories, Flash Flood Watches and Warnings, Flood Warnings, plus Non-Precip Watches/Warnings.
All hurricanes, as well as any tropical storm with a chance of making U.S. landfall, will be added to our tropical weather page so you can track them from formation to landfall. You'll get:
Customized graphics for each named storm
Long-range, offshore lightning detection in eyewalls and outer bands
Historical tracking and forecast images with time stamps
Text statements for forecasts, advisories, updates and discussions
High-res satellite images from GOES, Meteosat and GMS
Visible, IR and water vapor satellite images (including enhanced)
Forecast model data for tracking wind speed and precip amounts