Our weather is great for flying.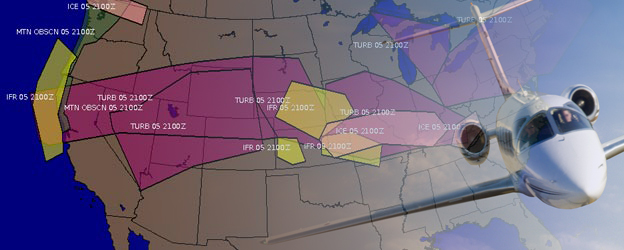 WeatherTAP.com provides professional pilots, and those who enjoy flying as a hobby, with all the weather they could possibly need.

Is today's weather favorable for flying? Our suite of aviation-specific products will give you a complete picture of atmospheric conditions. Plus, you can check out extensive radar, satellite, and lightning strike coverage at national, regional, state and local levels. We also offer traditional text products and graphics as well as current and forecasted weather products. Pilot reports are provided, along with non-weather information such as NOTAMs. Plus, all of this is available for viewing on your smartphone.
Look at all the great aviation weather features available on weatherTAP.com
Flight briefings legal for parts 91 and 135 operation
Current airport weather conditions, prognostic charts of IFR and MVFR conditions, precipitation and frontal boundaries
Extended weather depiction with detailed reporting of sky conditions, with zoom feature
View upper air movements and velocities with jet stream analysis chart
Use surface analysis chart to see frontal boundaries and high/low pressure centers
Forecast icing potential and current icing from 3,000 feet to FL300
Complete AIRMET and SIGMET maps with FAA-issued text
The forecast icing potential is essential for pilots and lets you pick the altitude and time (up to 12 hours out) that you want to know the total icing or super cooled large droplet altitude. Meteorologists can use this feature on the aviation page to get a sense of what level of the atmosphere these freezing temps can be found.
The jet stream analysis shows the strength of the winds aloft, which dictates the strength of a storm system. The surface observations show wind speed and direction, pressure, precip type and cloud cover for numerous locations across the country. The echo tops product is used by meteorologists to get an understanding for how tall a thunderstorm's clouds are, which can give clues to storm severity and potential for hail.
All observations, measurements, forecasts, and model data on this site originate from FAA, NOAA, or other official government sources.