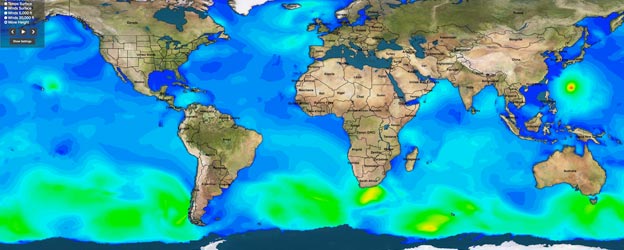 Click the image above for a full-size sample of weatherTAP's global weather imagery
WeatherTAP has partnered with EarthCast Technologies (ECT) to offer weatherTAP GLOBAL, predictive weather with worldwide coverage. It's weather like you've never seen it before, combining global satellite observations with cutting-edge prediction technology for the most advanced planetary forecasts available. Each product covers a period up to 36 hours with a temporal resolution of one hour. The model has a spatial resolution of approximately 20 km with new runs every 12 hours.
Global Turbulence Index
Winds Aloft at 5,000 ft, 10,000 ft, 18,000 feet and 30,000 ft
Predictive Radar
Surface Winds
Precip Accumulation
Surface Temperatures
Snow Depth
Wave Heights
Cloud Heights
Surface Observations
Infrared Satellite
Tropical Storm Tracking
This amazing suite of products provides detailed information for weather enthusiasts and professionals alike in the aviation, agriculture, hazardous materials and offshore industries. Plus, it's great for tracking severe weather worldwide. WeatherTAP GLOBAL provides the ability to track​ and predict tropical systems all over the world, whether they're called hurricanes, typhoons or tropical cyclones. See overlays of storm tracks that include the storm's path, as well as​ the​ forecast track with impact times and intensity forecasts. You can also use Predictive Radar, Winds, Precip Accumulation, Wave Height and Infrared Satellite maps to monitor the possible impacts of any tropical system.