Access a complete suite of real-time and forecast weather products.
Need weather for your job? Or do you just love weather?
Whatever the reason, weatherTAP has thousands of weather products for you.

Customizable Weather Maps
RadarLab® allows you to customize your weather display so you can track storms down to the street level.
Track storms to any location with color-coded storm tracks, storm path estimates and custom locations.
Set up a demo now
Plot your home, office, job site or EOC on our interactive maps so you can see if a storm is headed your way and what time the impact will be.
Select your background map including terrain and street maps.
Select your preferred overlays such as city labels, highways, and custom lines and locations.
Overlay weather such as radar, satellite, storm tracks, lightning, local storm reports, current temps and forecasts and much more.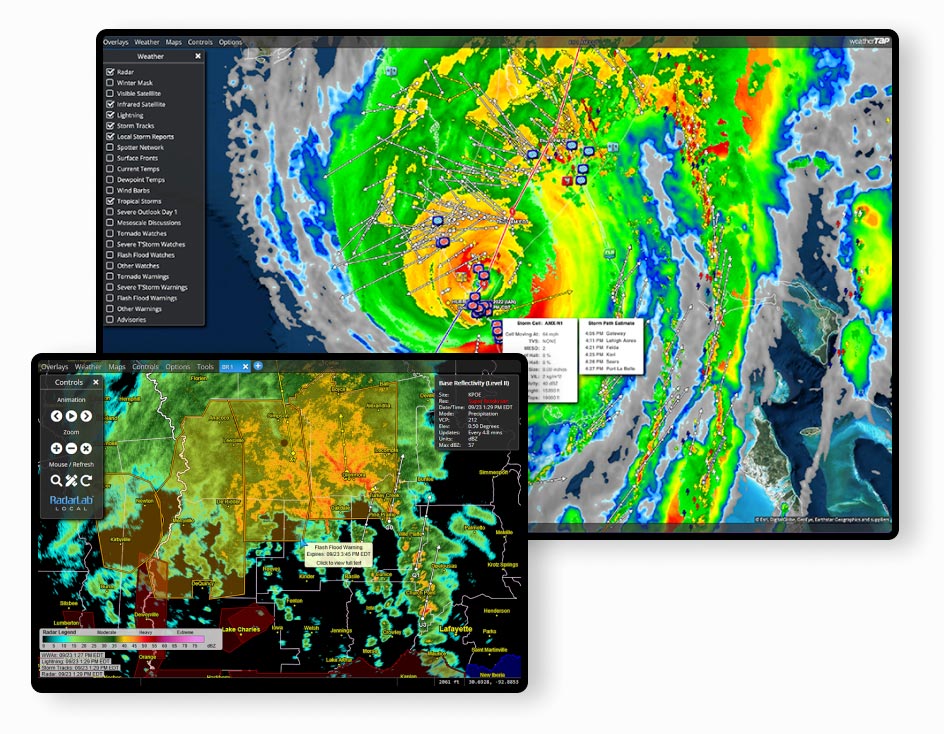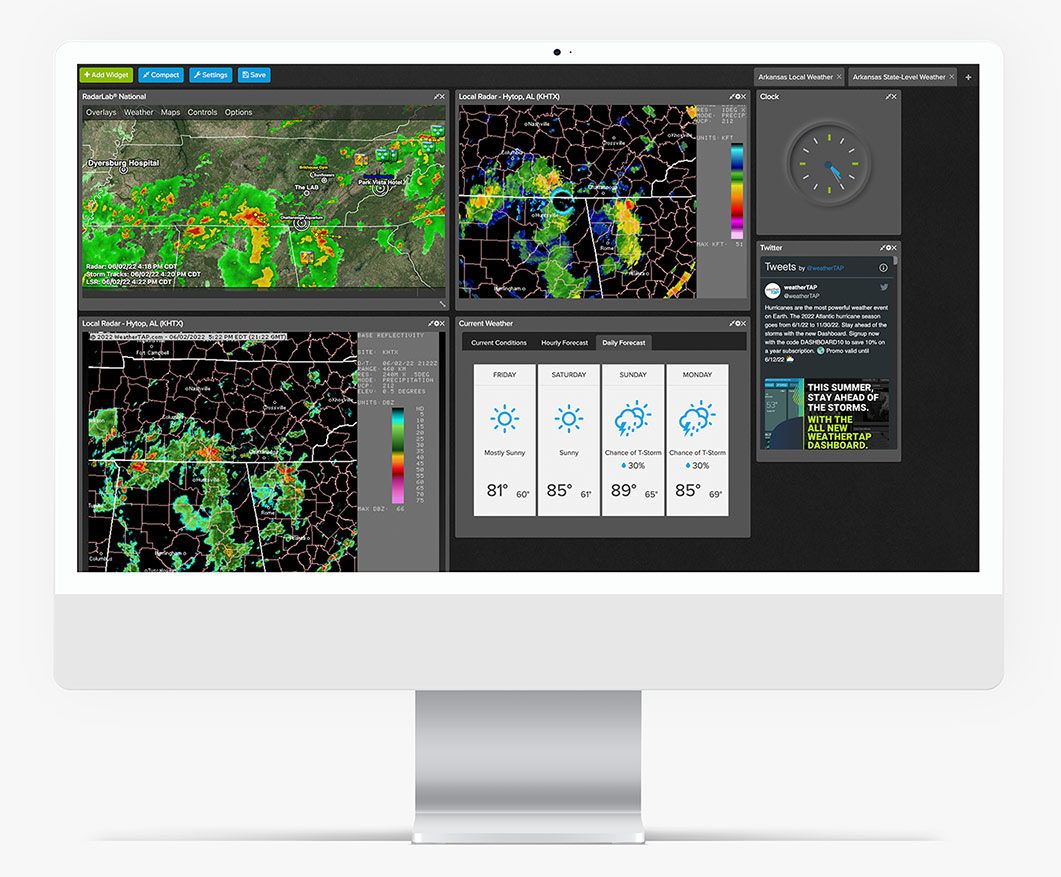 Personalized Dashboards
Get the full weather picture.
Choose your preferred maps or widgets from radar, satellite, severe weather, lightning and RadarLab maps
Try it free today!
Position widgets for the best view for you
Resize, animate and zoom apps
Widgets can even add links to outside information
Save and share customized dashboards
"WeatherTAP gives me the analytical tools I need to make informed decisions regarding the protection of my community. Your new dashboards allow me to view multiple tools simultaneously while also allowing me to access external tools with the click of a mouse."
Emergency Management Coordinator,
City of Grapevine, TX

High-res, Level II and III Radar
View national, regional and state mosaics
Updated every four to six minutes for the most current information available.
Get 14 days free
View multiple types of radar for local sites such as base reflectivity, radial velocity tilt, precip totals, echo tops and dual pol radar.
Overlay winter mask
Animate all radar images and overlay echo tops, warnings, and city names.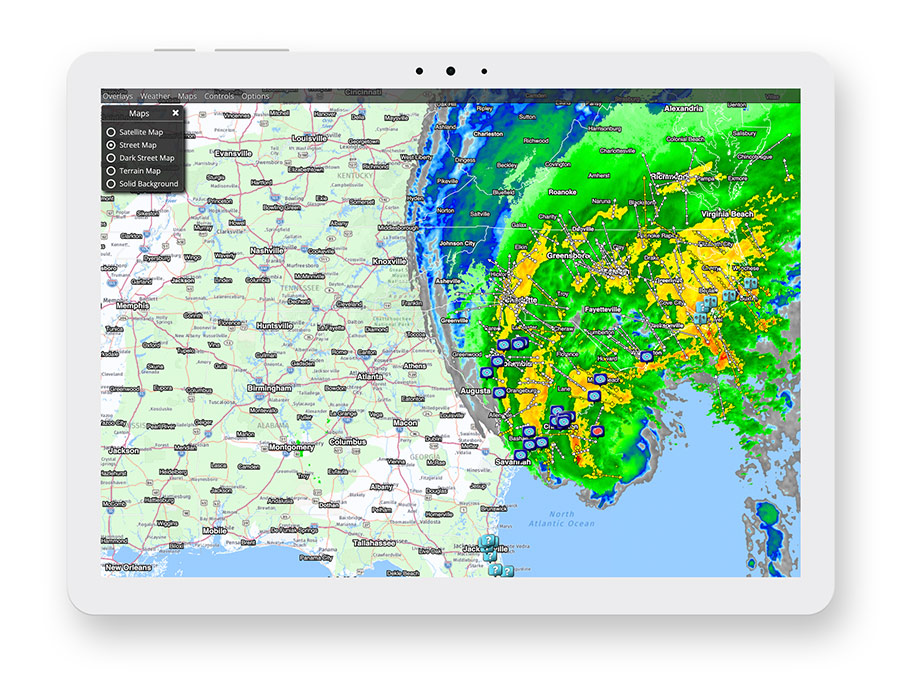 RAP, NAM & GFS Model Forecast Data
Predictive weather data for the entire U.S.
RAP data is updated hourly and forecasts out up to 18 hours
NAM data is updated four times a day and forecasts up to 84 hours
GFS data updates four times a day and forecasts for 240 hours.
Set up a free trial today!
Winds and height
Temperature
Relative Humidity
Precipitation
Dewpoint
Severe Indices
Precip Accumulation
Predictive Snow Depth

GOES 16 & 18 Satellite Imagery
Multiple satellite images at various spatial and temporal resolutions
Land, oceanic, hi-res regional and full views.
Try it FREE
Visible Satellite
Infrared Satellite
Water Vapor
Enhanced Infrared Satellite
Enhanced Water vapor

Lightning Strike Data
Real-time Lighting Data is also available as an add on.
Learn more
Color-coded by age
Cloud-to-ground and some cloud-to-cloud strikes
Updated every ten minutes
View on national and regional maps or overlay in RadarLab
Get 14 days free

Aviation Weather
Get a complete picture of atmospheric conditions
Try now!

No credit card required.
Flight briefings legal for parts 91 and 135 operation
Current airport conditions
IFR & MVFR conditions
Precipitation and frontal boundaries
Extended weather depictions
Jet Stream Analysis
Surface Analysis
Forecast icing potential and current icing from 3,000 feet fo FL300
Complete AIRMET & SIGMET maps with FAA-issued text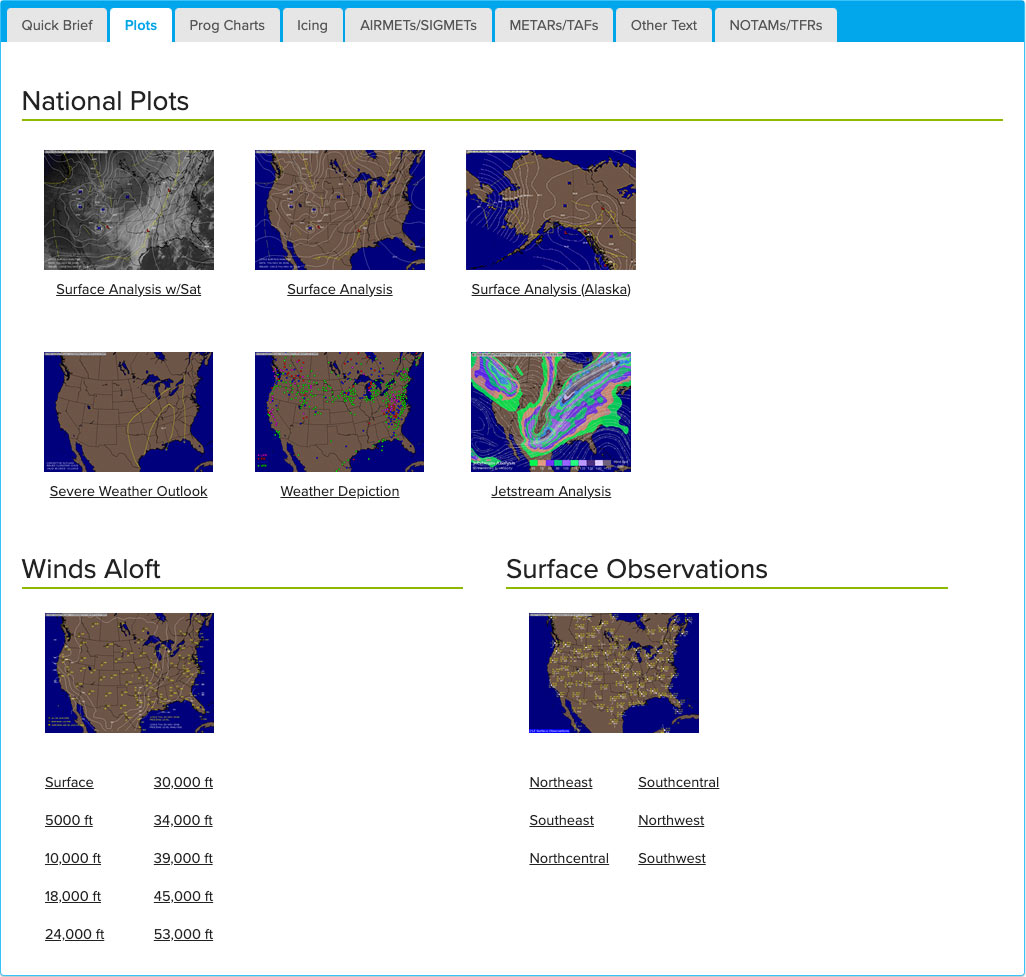 "We are a general aviation airport and use weatherTAP for our in-terminal building weather needs, running full-time on a public view monitor in our passenger lounge and available on a PC in the Pilot's Lounge for flight planning. We are very satisfied with the service. Highly recommend it."
Airport Director,
Stanly Co Airport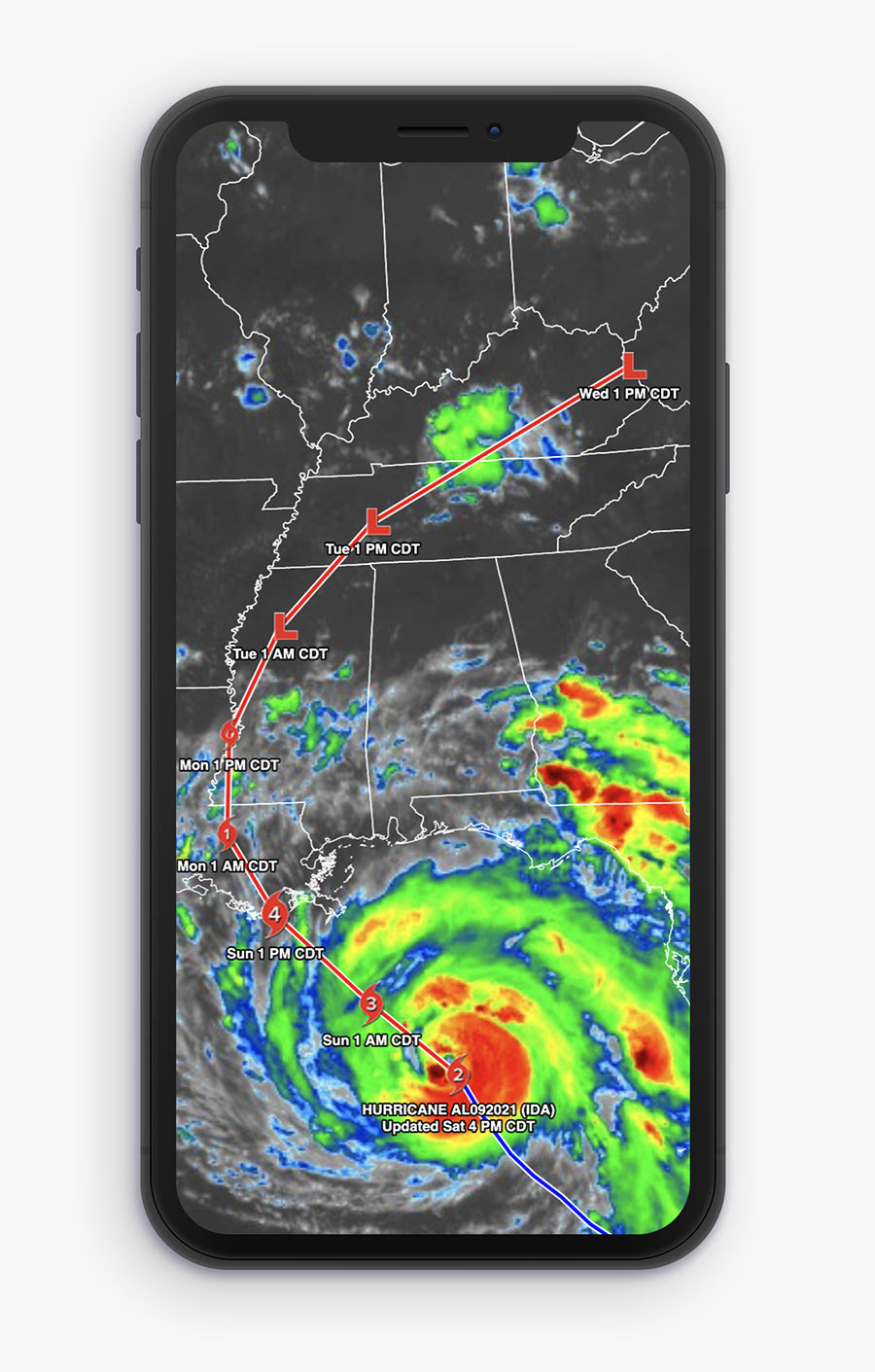 Severe & Tropical Weather
Stay ahead of dangerous weather situations and track individual storms so you can plan for any risk
NWS Watches, Warnings and Advisories with full text statements.
Start tracking severe weather today!
Surface Analysis
12 and 24 hour surface fronts
Convective Outlooks
Any hurricane or tropical storm with a chance of making landfall will be added to our tropical weather page
Customized graphics for each named storm
Long-range, offshore lighting detection in eyewalls and outer bans
Historical tracking and forecast images with time stamps
Text statements for forecasts, advisories, updated and discussions
High-res satellite images from GOES, Meteosat and GMS
Visible, IR and water vapor satellite images including enhanced
Forecast model data for tracking wind speed and precip amounts

Global Weather
Predictive weather products for the entire Earth
Global Turbulence Index
Winds Aloft at 5,000 ft, 10,000 ft, 18,000 feet and 30,000 ft
Predictive Radar
Surface Winds
Precip Accumulation
Surface Temperatures
Snow Depth
Wave Heights
Cloud Heights
Surface Observations
Infrared Satellite
Tropical Storm Tracking
Free trial access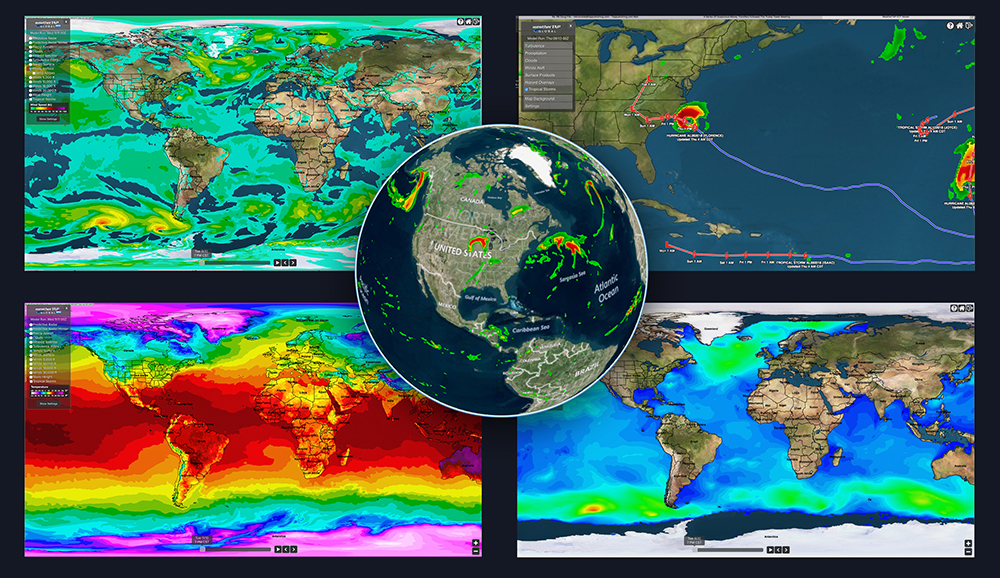 Unrestricted Access
Utilize your weather tools anywhere

No ads, just weather
You read that right. Zero ads. No annoying pop-ups. No autoplay video ads. No sidebar ads making weather maps smaller. And no having to scroll past ads for information. Ever.

No extra software required
No need to download or purchase software. All you need is an internet connected device and you can access thousands of weather products on your desktop, laptop, tablet or phone.
Try it free for 14 days